USRC Merchandise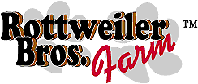 USRC Select is the product of a relationship between Rottweiler Bros. Farm and the United States Rottweiler Club. With the introduction of USRC Select merchandise, members, clubs and other interested individuals have a source for USRC merchandise year 'round. Please visit http://rottbros.com/usrcmdse.html to order.
Rottweiler Bros. has gained a reputation for providing quality items featuring Rottweilers, and those same items now can feature the USRC logo. There are now many more options available to members, especially in clothing. USRC Select clothing from Rottweiler Bros. is printed or embroidered on name brand merchandise, like Fruit of the Loom, Jerzees, Anvil, Oneida, Gildan, etc. WE DO NOT SELL SECONDS.Unless otherwise specified all sizes are standard unisex sizes. The only exception to this is in selected items for ladies which are sized for women. Other USRC merchandise, such as breed books, binders, pins, patches, etc. are now available from one source, to make it easier for you to find the item you want.
Rottweiler Bros. also has many other items available for USRC clubs, which are not pictured on the web site. Please contact us for more information on banners, flags, trophies, leather items, etc. In addition, the USRC logo has been digitized for use on embroidered items. It is available in two sizes, small, which could be used on a coat or shirt front, luggage, etc. The large size is suitable for a jacket back. We can offer a variety of custom options to you featuring the USRC logo. Please email us at rocky@plains.net or call us at 800-790-0405 for further information on these items.

Ordering Information: Orders may be placed via e-mail, but please call us to give us yourVisa or Mastercard number. (This keeps our costs down and makes ordering more secure for you.) You may leave your name, credit card number and expiration date on our voice mail if we are not available. Domestic orders can use our toll free line, 1-800-790-0405. International orders can use 970-332-4941 or fax orders to 970-332-3309. International shipping is billed at cost using your chosen carrier.
Questions? You can E-mail us at: rocky@plains.net , or call our 800 number.
Please visit http://rottbros.com/usrcmdse.html to order.
Begin Disclaimer: This website, filemakerwebpro.com is a software developer demonstration of the content of the original website, http://www.usrconline.org/ that shows how static website content from the website http://www.usrconline.org/ can be used in a user editable dynamic website like this one. End Disclaimer.